Alan Thompson - Satellite Internet Field Engineer and Consultant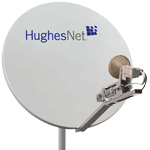 "Phones, Fires and Failures" A Presentation on California Disaster Preparedness. Presentation Schedule Here.
I specialize in providing Hughesnet and VSAT (Very Small Aperture Terminal) two-way Satellite Internet and telephone communications systems installation service and consulting to homes and businesses in California, Nevada, Mexico, and Central America. I speak basic Spanish, and install and service satellite communications systems outside the reach of conventional Internet and telephone service. I'm a certified installer and technician, and I specialize in HughesNet, iDirect®, and UHP V-Sat fixed and mobile systems.
Most satellite internet communications projects are in remote locations far beyond the reach of conventional, land-based Internet or cellular telephone coverage. Industries we service include Mining and Minerals Exploration, Oil and Gas Exploration and Drilling, Emergency Response and Disaster Recovery, Forestry and Fire-fighting Camps, Dam and Road Construction, and anywhere where access to remote communications is a must.
Some of my Valued Clients and Projects include:
Please send Email to if I can provide more information or assist you in any way:
VSAT Satellite Internet Systems Installation and Consulting Services
Residential and Commercial VSAT Satellite Internet, Video and Audio systems installation and consulting services provided by Alan Thompson, owner, Principal Consultant and Chief Technician for El Dorado Networks. Alan has well over 30 years of residential and commercial satellite communications experience. He has personally supervised the installation of over 300 satellite Internet voice, data and Internet communications systems during that time and is familiar with design, installation, repair and maintenance of VSAT satellite Internet data and voice communications systems using iDirect- and HughesNet-based satellite Internet modems and radios, as well as Residential and Commercial DIRECTV and Dish Network satellite TV systems.

Serving El Dorado County, Northern and Southern California, Western and Central Nevada, Oregon, Utah, Arizona, Mexico, Baja California Sur and Baja California Norte. Call 530 903 4257 or Contact Alan Thompson Today.
Alan Thompson, consultant and installer, Field Engineer/Technician: fixed and mobile VSAT satellite internet systems installation, HughesNet, UHP, iDirect, Infinity 3000 Series, Evolution, Mining and Minerals Exploration, Oil and Gas Exploration, Emergency Response, Disaster Recovery, Forestry, Fire-fighting Camps, Dam, Road Construction Communications, Placerville, Sierra Foothills, El Dorado County, Western United States (Northern and Southern California, Nevada, Utah, Arizona, New Mexico, Colorado, Idaho, Oregon and Washington), Northern and Central Mexico and Baja California Sur (Vizcaino, Los Cabos, Cabo San Lucas), Sacramento, San Francisco Bay Area.